SENIOR LEADER TRAINING
Course Length: 3 days
Senior Leadership must actively support any type of change initiative. The support that the organization needs from Senior Leaders encompasses more than vocal support. This three-day course focuses on the skills and methods required of senior leaders to lead and manage a high performance organization.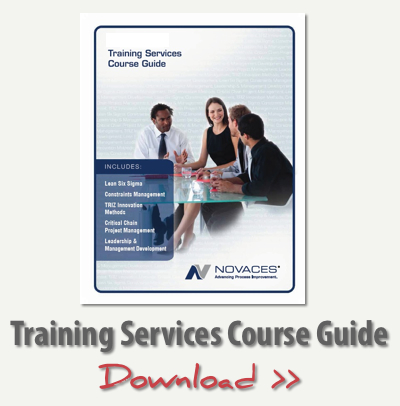 This tailored course addresses issues outlined in the surveys and executive interviews from the Client Needs Assessment, teaching the current best practices seen in industry. To ensure cohesion, the training is coupled with implementation plans and anchored to training subjects in the subsequent First-Line/Mid-Level Leader course.
Course Objectives
Identify the difference between leadership versus management

Know how to deploy a mission- and vision-aligned strategy

Explore various methods to motivate the workforce to produce results
Primary Topics
Executive Communication
Leadership vs. Management
Strategic, Operational and Tactical Goals
Team Building for High Performance
Conflict Management
Diversity Management
Recognizing and Rewarding Employees
Taking Care of People
Critical Thinking Skills
Change Management
For more information about this course please call 1.855.NOVACES or click here to contact us by email.